'Anaganaga oka Mahanati!'
Once there lived.. a great actress!
That's a line I loved in Mahanati. But can you just tell this tale as simple as this? How do you trace a biopic of someone who enthralled decades of South Indian Cinema? How do you tell a story out of a life that had the greatest rise and the most tragic fall together? Whom do you cast as an actress who is celebrated as the greatest actress ever lived in Indian Cinema? How would you even justify a life that's way too larger for any film or a novel! Well! Mahanati, in that sense, is a classic win in all these grounds!
The film unveils as stories.. from people who knew her.. Like pious devotees talking about mystic divine interventions in their life, we hear about her.. about Savithri – The Mahanati! Nag Ashwin along with Keerthy Suresh and Dulquer Salmaan delivers an experience of epic sorts!
There are several moments throughout the film that resonates how magnanimous a star Savithri was! To begin with.. the first time we see her, we see a director and his crew arguing how they would set up a particular complicated shot to match a performance. And we hear her voice first, 'Why you guys are bothered about performance when I am here!' We see her all glowing with an incomparable attitude, absolute confidence of who she is, what she is capable of.. And ever since that.. the film only keeps writing off Savithri with nothing but respect, awe and wonder that's timeless! There is huge dignity in how her fallen times are told. We don't even get to see how she was disfigured in her last days. As Madhuravani confronts in the end.. we are asked to remember her as only the beautiful characters she played.. as Sasireka.. as Parvathy.. as the star Savithri who singlehandedly made all male stars to wait for her dates!
There is a scene post Savithri's marriage to Gemini Ganesan.. where she is being told people might hate her for marrying a married man and warn about the possibility of her career being ruined. And the next day, Gemini Ganesan takes her to terrace and asks her to look down.. There is raging crowd! Cheering.. Whistling.. Screaming 'MAHANATI!'. He tells her that not everyone will deserve this kind of stature and love. He holds her hand, lifts it up asking her to cheer back for the people. Reminds something? Yes! Like Iruvar.. the film glorifyingly stages a saga that spans over golden decades of South Indian Cinema.
Beyond the thin line of fictionalizing and documenting what happened.. there are several arcs in the film that leaves us amusing even after hours of leaving the theatre. For instance, how the tragic tale of Devdas always haunted Savithri. At one point, she is even asked whether she will dare enough to be Parvathy and marry someone for the second time if the Devdas is Gemini Ganesan! Hence the tale of Mahanati unfolds with Savithri as its Devdas. There is unrequited love, there is alcohol that gives her the console she needed when no one is there for her.. there is a tragic lonely death that awaits for her!
Madhuravani & Vijay Anthony's characters played by Samantha and Vijay Devarakonda, through whom we listen to the saga from the past is brilliantly yet smoothly blended in the narrative. In a way, both the timelines mirror each other. Vijay proposes Madhuravani like how Gemini Ganesan publicly declared Savithri as his wife. Madhuravani comes out of her shell for her passion, rebels in her family for her love while listening to a random glimpse of Savithri's interview in a radio. The tale of Savithri as she hears empowers her own life like it would have done for anyone else
Keerthy Suresh as Savithri is definitely among the greatest of cinematic portrayals ever done. Running out of words.. With a role of her lifetime, this film, on the greatest actress ever lived has opened a great new chapter in her own career itself. Forget the unbelievably close resemblance.. but the way the roles, characters played by Savithri and the real life moments are recreated is unbelievably insane. Be it Savithri signing autographs with left hand, the famous starcricket played back then, sequences from MayaBazaar or the scene involving elephant procession done to honour her.. Nag magnifies and stretches life through her out of every resource he could come across. As we explore the Mahanati Savithri, we discover an actress in Keerthy Suresh!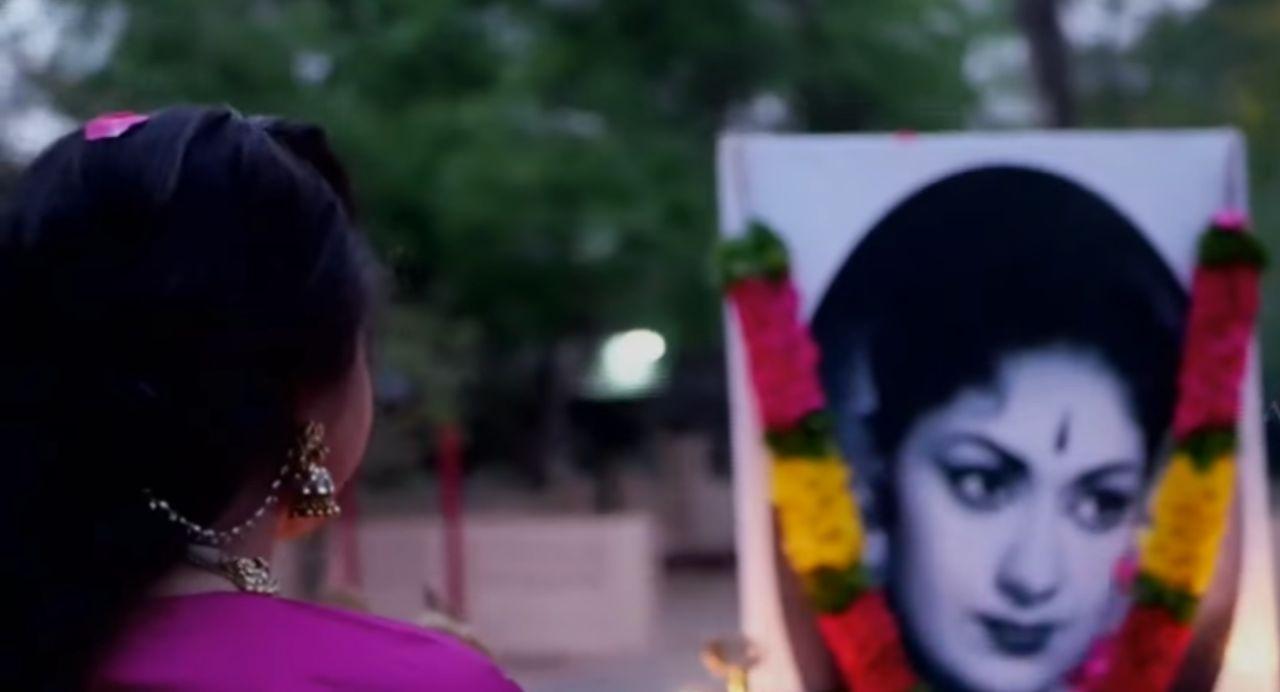 Having said all that.. the fascinating aspect of Mahanati is the exploration of relationship between Gemini Ganesan and Savithri. As he himself claims it is a love story that happens rarely. It is with tragedy written all over. There is a huge turmoil of ego and love always running beneath. No need to say that Dulquer is versatile but he creates his very own version of Gemini Ganesan instead of caricaturing him. The throbbing charm he has added with the negative shades of the character presents a 'Kadhal Mannan' you have never seen before on screen. Watch out for the scene when he asks her not to take credit for his fall. The love-ego-love graph is humanly etched out with some stellar writings throughout the film.
The film is two and half hours long. There are issues in balancing the vignettes of screenplay. The initial comedies around Savithri's childhood and her early auditioning days in Madras runs way too long for a film that's much more than that. But.. As it proceeds.. more than as an actress extraordinaire, as a star from beyond the silver clouds, as a compassionate human being, we are left wondered forever with a woman who is so selfless in her love for a man! A Devdas she is, who gives all that she can for a love that's always a bit away for her!
Rating: 4/5
Reviewed by Suhansid Srikanth