Chennai born Nandamuri Balakrishna aka Balayya is 61 year old actor-politician, who is well known among the Telugu film audience. He is the sixth son of former Andhra Pradesh CM NT Rama Rao and is currently an MLA from the Telugu Desam Party (TDP), that was founded by his father.
Balayya is also the same actor whom Radika Apte had bashed in 2018 for inappropriate behaviour on sets. Recently Balakrishna raked up a Twitter storm after belittled A.R. Rahman during a Telugu interview. NBR's exact words were,
"Rahman.. I don't know who Rahman is, I don't care. Once in a decade, he gives a hit and gets an Oscar award"
Fan wars followed under several hashtags like #WhoIsBalakrishna, #LegendaryNandamuriBalakrishna and #ARRahmanThePrideofIndia. But many agreed that the statement was unnecessary shade thrown (Balayya has a habit of doing this on a regular basis) at a composer who put Indian music on the global map.
How can a senior actor like #Balakrishna talk about Indian legend #ARRahman? Will people accept if a similar thing is being spoken by a Tamil actor on #Rajamouli? pic.twitter.com/ILMPDvjsVe

— Troll Cinema ( TC ) (@Troll_Cinema) July 20, 2021
#WhoIsBalaKrishna Who are you ??? pic.twitter.com/JDYU3lOcwL

— SHANKARCHIYAAN (@Naresh2Shankar) July 21, 2021
Tamil people are desperately trying to find out #whoisbalakrishna. Well you can actually ask @Suriya_offl who apparently loves balakrishna a lot. Not only him, the response from the crowd will tell you that he is the #LegendaryNandamuriBalakrishna pic.twitter.com/b2o7B0qWb7

— Boyadu unnadu🧘‍♂️ (@MCK_NBK) July 21, 2021
#TheMostOutdatedActor #Balakrishna
Don't know who #ARRahman is,Bharat Ratna equal to my Dad's toenail: Actor #NandhamuriBalakrishna.

This kinda attitude should not be encouragedp https://t.co/Bo41wqXunP pic.twitter.com/QLdKmcPUq0

— ravishankar (@claythoughts) July 22, 2021
May be #balakrishna doesnt know #ARRahman because when he worked for his movie #nippuravva his name was Dileep Kumar!!!

— satya pamula (@satyapamula) July 22, 2021
#ARRahman
Balakrishna doesn't know who is AR Rahman, and the rest of world doesn't know who is Balakrishnan.#WhoIsBalakrishna

— Piyush (@PiyushSebestian) July 21, 2021
What ever #Balakrishna has told about Bharatha Ratna and #ARRahman has nothing to do with Telugu speaking people.
Few racist supporters are trying to showcase this issue as Telugus vs Tamils.
We shld ignore them nd continue accepting talent across th borders.#whoisbalakrishna

— Nageswar Reddy (@NationalistSays) July 22, 2021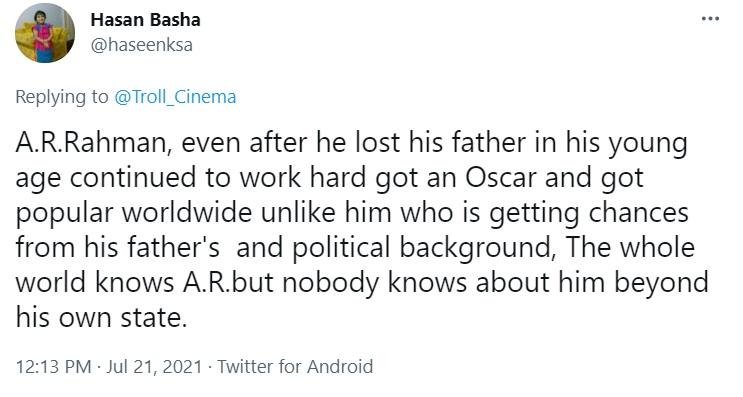 I know who balakrishna is. But he isn't worth knowing. #ARRahman #RahmanPrideofIndia

Worst product of nepotism - world's worst actor - sexist - kalimann brain - chavunist - God complex - treat ppl like shit (like himself)

— Lone Wolf (@iamVetrii) July 21, 2021
Some one asked #WhoisBalakrishna

Just watch this video and you come know about him #LegendaryNandamuriBalakrishna pic.twitter.com/oPnxUwNSiN

— Venky Mama (@iam_kv39) July 21, 2021
#whoisbalakrishna
people like him don't hide things ...they keep themselves transparent 👍
he is king with golden heart🙏#GodOfMassesNBK pic.twitter.com/jcL3jtYYxu

— Nbk Tej ™ (@NbkTej) July 21, 2021
Wait.. what...!?? Did ARR sir like my tweet... 🥺🥺😳😳😳
Waking up to see this is such a honour..🤩❤️💯 Thank you sir.. 🙏
Makkalee pls purinjukonga, Dont create unnecessary problms over social media😑 #ARRahman ❤️ https://t.co/9mUWFyWRCX pic.twitter.com/9R8sSQm0qR

— Rubika (@itz_me_Ruby) July 22, 2021
A.R. Rahman's response to the whole incident was liking a tweet that read, "Being a good #ARR fan. i will just ignore that calmly as like @arrahman sir does always. Does ARR become unrecognizable because one person said he doesn't know him? Comon, World is praising him for all his achievmnts in music industry.! #PeaceAndLove"