Indian Badminton player Saina Nehwal who joined the ruling BJP party in 2020, tweeted on January 5, 2022 that she "strongly condemned the cowardly attack on PM Modi by anarchists", in response to the security incident which involved Modi's convoy getting trapped on a Punjab flyover for over 20 minutes. This was due to protestors demanding the resignation of a cabinet minister, whose son has been accused over the deaths of farmers and many on Twitter were found trolling Saina for this said tweet.
Saina, there wasn't any attack on PM. You might have just pasted what BJP IT Cell sent you like last time pic.twitter.com/iros012n46

— Joy (@Joydas) January 5, 2022
If you think that India isn't safe, you're free to leave. Many people keep saying "go to Pakistan". Maybe try that first. Take Narendra with you.

— Pramit (@pramitheus) January 5, 2022
The way some people including leaders from Congress are reacting to Saina Nehwal's 'anarchists' tweet makes me wonder whether they are unaware that she is actually a member of the BJP. She was formally inducted into the party along with her sister in 2020. pic.twitter.com/5pdBsQWgeP

— Bala (@Bala__G) January 6, 2022
Actor Siddharth however took things too far by making a word-play, which he says was based on the idiom 'cock and bull' but others found sexually coloured. During this course, it was dug up that Siddharth had decades ago word-played on 'shuttle-cock' (another term for badminton), but back then he was on Saina's side pointing out how her badminton win was not getting the limelight it deserves in a cricket-enthusiast India.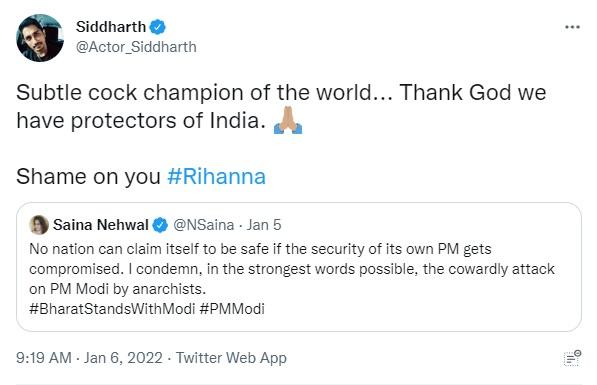 "Cock & Bull. That's the reference. Reading otherwise is unfair and leading! Nothing disrespectful was intended, said or insinuated."

After the police department and the National Commission for Women got involved condemning Siddharth for his choice of words, the actor deleted his original tweets and posted an open apology on Twitter addressing Saina.
Wrote to @DGPMaharashtra and @TwitterIndia to take action against @Actor_Siddharth. https://t.co/qEBaFNQ2Lq pic.twitter.com/KGMjoN0JJz

— Rekha Sharma (@sharmarekha) January 10, 2022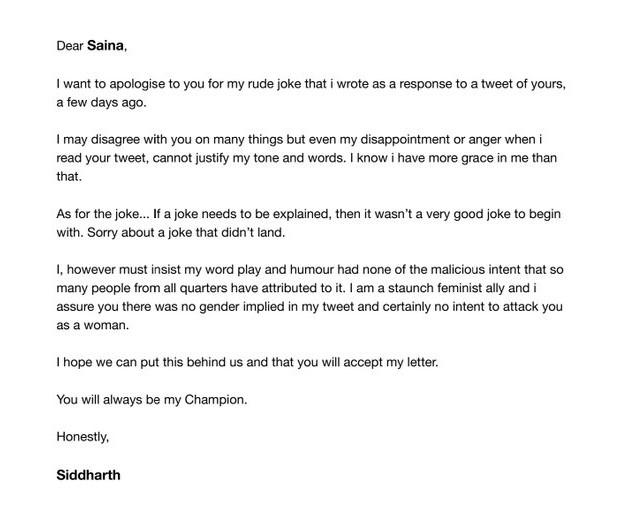 Now, Saina has reacted to the incident by stating, "Yeah, I'm not sure what he meant. I used to like him as an actor but this was not nice. He can express himself with better words but I guess it's Twitter and you remain noticed with such words and comments. He only said it and he is now apologizing. I was surprised to see myself trending on Twitter that day. I haven't spoken to him but I am happy that he apologized. See, it is about women, he shouldn't target a woman like that but it's okay, I am not bothered about it, I am happy in my space and god bless him,"