Hindi film actress Richa Chadha who is known for being outspoken, recently earned the wrath of social media after reacting to a comment by Indian Northern Army Commander Lieutenant General Upendra Dwivedi, about the army always being ready to take back territories in Pakistan-occupied Kashmir (PoK). Richa had tweeted "Galwan says hi", making a reference to the clash between Indian and Chinese forces in the Galwan Valley. The clashes had resulted in the death of 20 Indian soldiers.
#Galwan controversy on tweet by @RichaChadha I don't think she mocked sacrifice of soldiers ..she was rather targeting a political statement given by a serving General to benefit BJP in elections. When Army gets politicised then be ready for criticism and mocking too.. @adgpi

— Colonel Ashok Kr Singh (@ashokkmrsingh) November 25, 2022
Many found the tweet to be in poor taste and disrespectful towards the Indian armed forces who protect our borders on a day-to-day basis, most times under dire conditions. The tweet was soon deleted and Richa Chadha, who comes from a family of army veterans stated in her apology note [after taking down the tweet], that she only took issue with warmongering intent, especially with PM Modi making statements like 'today's era must not be of war' to Russian President Vladimir Putin [He said that at the G20 Bali Summit].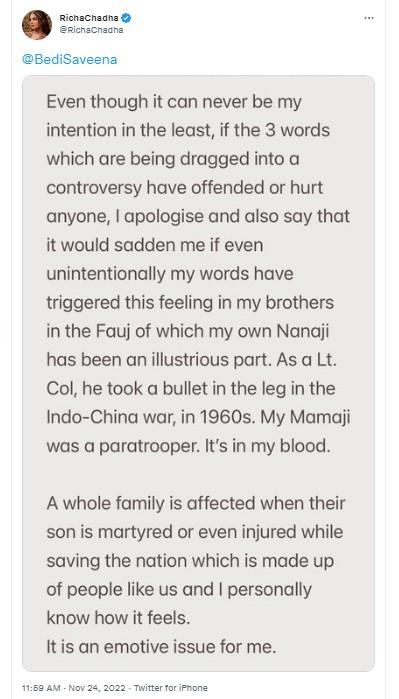 The tweet was not a comment on fitness/valour. Our army is always ready for sacrifice. Making up such news and then highlighting Pakistani reaction can amount to warmongering. "This century is not about wars, but about settling disputes through dialogue" Resp. PM.@RichaChadha

— Advocate Saveena Bedi Sachar (@BediSaveena) November 24, 2022
Nevertheless, film producer Ashoke Pandit, a BJP-ally lodged a police complaint against the actress and actors Kay Kay Menon and Akshay Kumar expressed disappointment on Twitter, by sharing screenshots of the actress' deleted tweet.
I filed a police complaint against actress #RichaChadha at #JuhuPolicestation (Mumbai ) .
Nobody has a right to mock our soldiers .
I hope @MumbaiPolice will act against her as per the law of the land . @mieknathshinde @Dev_Fadnavis pic.twitter.com/In0HD9LuJa

— Ashoke Pandit (@ashokepandit) November 24, 2022
Our brave men& women in uniform,put their life on the line to keep every citizen of our Nation safe &secure! Least we can do is to behold love, respect & gratitude,in our hearts, towards such valour! #JaiHind! वंदे मातरम!!🇮🇳🙏 pic.twitter.com/5mqbYfb8Ue

— KayKay Menon🇮🇳 (@kaykaymenon02) November 24, 2022
Hurts to see this. Nothing ever should make us ungrateful towards our armed forces. Woh hain toh aaj hum hain. 🙏 pic.twitter.com/inCm392hIH

— Akshay Kumar (@akshaykumar) November 24, 2022
Such a two face human you are @akshaykumar

— The_Faizan (@faizan9siddiqui) November 24, 2022
Akshay Kumar being the biggest celebrity of this lot, was quickly reminded of his Canadian citizenship oath (as with every controversy surrounding the actor) and how he should be the last person speaking on 'disappointments' since his citizenship status means that he will have to fight against Indian troops, should Canada and India ever go to war.