Thangalaan is an upcoming period action drama set against the backdrop of Kolar Gold Fields in Karnataka. The movie directed by Pa. Ranjith stars actor Vikram in the lead and also has Parvathy Thiruvothu, Malavika Mohanan, Pasupathi among others. Marking director Pa. Ranjith's birthday today, producers Studio Green and Neelam Productions have unveiled a new behind-the-scenes (BTS) poster.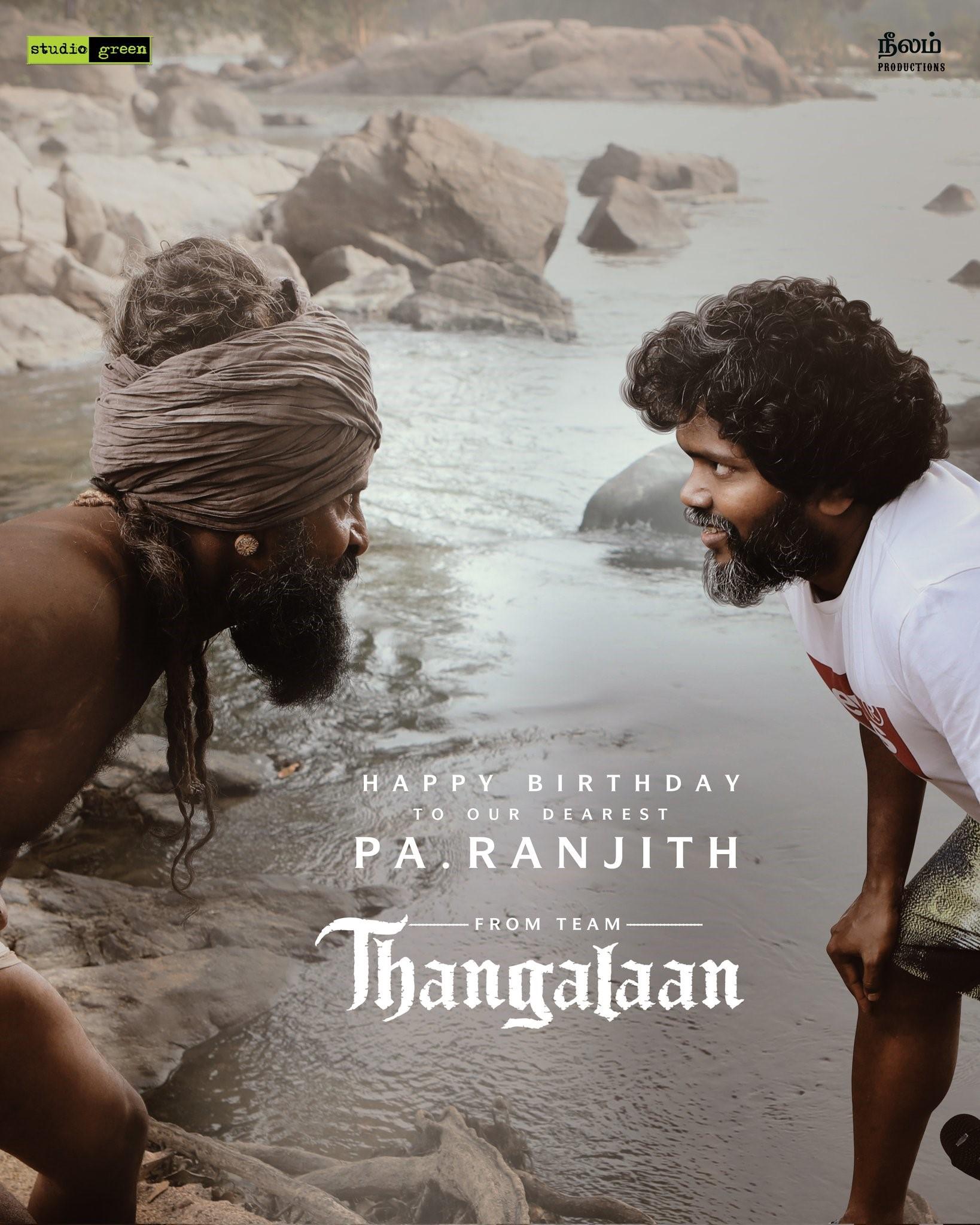 Earlier in the week, actor Vikram shared a post-packup video with the caption, "It won't be wrong to say that the Thangalaan shooting today near Hogenakkal falls (in Dharmapuri, Tamil Nadu) was very difficult. The water called us and soon when we heard 'pack up', we all jumped in. Will I let my friends be? Those who were afraid to get in at first were eventually in no mood to get out of the water."
இன்று ஒகேனக்கல் அருகில் #Thangalaan படப்பிடிப்பு.கடினமாக இருந்தது என்று சொன்னால் மிகையாகாது. தண்ணீர் வா வா என்று அழைத்தது.'Pack-up' என்று கேட்டதும் ஒரே குதி.. தண்ணீரில். என் நண்பர்களை விடுவேனா என்ன?!அய்யோ வேண்டாம் என்று பதறிய சிலர் கடைசியல் தண்ணீரை விட்டு வர மறுத்துதான் மிச்சம். pic.twitter.com/6NCiU6ezGQ

— Vikram (@chiyaan) December 5, 2022
Actress Malavaika Mohanan too shared a glimpse of her Silambam training for the movie, this week. Thangalaan has GV Prakash for music and its OTT rights is said to have been bagged by Netflix for a whopping price of Rs. 35 Cr. An official announcement on the same is however awaited.
----------------------------------------------------------------------
[Update-January 16, 2023]: Netflix has officially announced that they hold the digital rights to Thangalaan in Tamil, Telugu, Kannada, Malayalam and Hindi languages.
When we look at Chiyaan Vikram in this getup, only one thing comes to mind: DHOOOOL! 🔥

Thangalaan is coming to Netflix in Tamil, Telugu, Malayalam, Kannada and Hindi as a post theatrical release. 🤩#NetflixPandigai #Thangalaan #NetflixLaEnnaSpecial pic.twitter.com/VbNYjAWKqt

— Netflix India South (@Netflix_INSouth) January 16, 2023