Bigg Boss Tamil, hosted by Kamal Haasan, is a popular reality TV show in Tamil Nadu, India that is based on the original Dutch version of Big Brother, and follows a group of contestants living together in a made-up house, isolated from the outside world. The contestants are under constant surveillance, and their every move is broadcast on Vijay TV television channel.
வாழ்த்துகள் அசீம்..💐 #Azeem #Winner #BiggBossTamil6 😎 #BBTamilSeason6 #BiggBoss #BiggBossTamil #பிக்பாஸ் #VijayTelevision @preethiIndia @NipponIndia pic.twitter.com/5XCa2UDXSA

— Vijay Television (@vijaytelevision) January 22, 2023
The show is known for its mix of drama, tension, and entertainment, as contestants are forced to live in close quarters, and compete against each other for a grand prize of Rs. 50 lakhs cash and a surprise prize of a brand new Maruti Brezza SUV car. Season 6 of Bigg Boss Tamil recently concluded and contestant Azeem was declared the winner after his stint of 106 days, while contestants Vikraman and Shivin (Bigg Boss Tamil 6's trans contestant whose pronouns are she/her) were declared runners-up.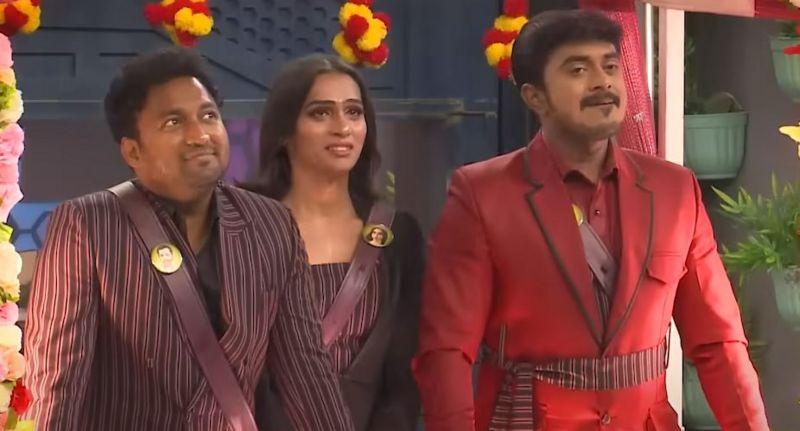 L-R: Vikraman, Shivin, Azeem
Both Azeem and Vikraman were the most nominated-for-eviction contestants this season. While Vikraman, an activist faced criticism for his biases despite being level-headed and righteous, Azeem, a TV actor made viewers uncomfortable with his anger management issues. Azeem's ultimate win in the end is what has sparked controversy with hashtags like #BoycottVijayTV and #AramVellum - Vikraman's tagline from the show, trending. Many also have opined that both Vijay TV and Kamal Haasan have enabled glorifying toxic behaviour, and setting a wrong example, with the current fan-voted results.
It is worth mentioning here that Bigg Boss at the end of the day is a reality TV show that relies highly on the shock-value. Host Kamal Haasan loosing his temper like never before with only Azeem in particular, and mollycoddling Vikraman is a case in point, and this could have been a deliberate attempt by the show-runners in inducing reverse psychology votes from the viewers. It is also worth mentioning that with many livid over the results of Bigg Boss Tamil 6, the only entity profiting from the same are the show-runners who have their audience's attention (and opinions ready) for the next season already.
Victory of Azeem is not new but Azeem winning against a person like Vikraman makes me question about this society …Congratulations on normalizing toxic behavior,male chauvinism,gender discrimination…But i still believe #aramvellum ❤️#BiggBossTamil6 #BoycottVijayTV #BiggBoss pic.twitter.com/qlRrXRIiRF

— Noufar M (@myselfnoufar) January 23, 2023
I can show this picture to society and proudly say that. This guy is my hero.
I am from Kerala and don't know what politics going out in TN. But I am matured enough to understand who is right and wrong.
Aram Vellum. You are my hero 4 ever.#Vikraman #AramVellum #BoycottVijayTV pic.twitter.com/hjVJnhvrVv

— Rohith PB 🤘 (@rohithpb10) January 23, 2023
#Azeem PR டீமின் அக்ரிமெண்ட் 106 நாளோடு முடிஞ்சுருச்சு போல. அவர் பெயர் கூட பெருசா டிரெண்ட் ஆகல. கப் ஜெயிச்சதுக்கு கழுவி ஊத்துறாங்க. யாருமே அவருக்கு ஆதரவா பேசல. விக்ரமனின் நிஜ ஆதரவாளர்கள் அவருக்காக இன்னும் குரல் கொடுக்குறாங்க.#BoycottVijayTV #BiggBossTamil #Azeem #Vikraman𓃵 pic.twitter.com/oTPIKoMZCF

— Noorul ibn Jahaber Ali (@nooruljourno) January 23, 2023
அசீம்க்கு ஓட்டு போட்ட எவனும் அவன் வீட்டுல இப்படி ஒருத்தன்கூட இருக்கணும்னு நிச்சயமா விரும்பமாட்டான்... ஆனா விக்ரமுக்கு ஆதரவு தெரிவிச்ச ஒவ்வொருத்தரும் விக்ரமனை அவங்க வீட்டுல ஒரு புள்ளையா நினைச்சுதான் ஆதரவு தெரிவிச்சிருப்பாங்க!! இதுவல்லவா உண்மையான வெற்றி❤️❤️💯🙌#BiggBossTamil pic.twitter.com/K9ebYSExnT

— ஜீரோ நானே⭕ (@Anti_CAA_23) January 22, 2023
இந்த அசிங்கம் தேவையா 🤦#BoycottVijayTV @vijaytelevision @ikamalhaasan pic.twitter.com/ogHugmXNIk

— க.சரவணன் (@VckSaravanan6) January 22, 2023
Audience shouting "அறம் வெல்லும்" is the BEST moment you'll WITNESS from today's finale episode. 🔥🔥

Aram Vellum Vikraman.
நீங்களும் வெல்வீர்கள் @RVikraman #ThozharVikraman #AramVellum #Vikraman #BoycottVijayTV pic.twitter.com/owzsdFWn7L

— சே குவேரா 🖤❤ (@007Kannadasan) January 23, 2023
Some people win cups , Some people win hearts❤️ it's not about just winning , it's about how u choose to win 🏆 . #truewinner #mirchishivshankari #rjshivshankari #bigbosstamil #bigbosstamilseason6 #vijaytv @vijaytelevision @vikraman_r_official @shivinganesan #vikaraman #shivin pic.twitter.com/80HHq7T9oN

— Mirchi Shivshankari (@MIRCHI_SHIV) January 23, 2023
Election commission ku petition podunga. Ithellam oru news nu potutu iruka.

— Thala (@TheriAjith) January 23, 2023
Samooga paarvaiyodu paarkuravunggalukku mattumey, nethu nadanthathu evvalo oru nyaayamattra vishayamnnu puriyum. Keep expressing your views louder, Joe!

— Shamala V.M. 🏴🇲🇾 (@Shammy_TC) January 23, 2023
Aduthu azeema intreview eduthu neenga nalla samathanama poiruvinga Nanga Azeem vikramnu sanda podanum😂 podhum bro next season la Motha bb team Kita ithu game showvaa i'lla samugam saarntha showva ketutu review pannunga enaku Azeem pidikuthu bcz of game play so clarify it

— PJ7 (@PrinceJ12133789) January 23, 2023