Kanguva is an upcoming big budget Suriya starrer which is jointly produced by Studio Green and UV Creations production banners. The movie written and directed by Siva is touted to be Suriya's costliest film ye,t and director Siva has confirmed that the film is set 1500 years ago. KE Gnanavel Raja of Studio Green has now confirmed that Kanguva will be a festival release in 2024.
Talking about the unusual plan of releasing Kanguva in 3D in over 10 languages, Gnanavel Raja was recently quoted as saying, "There were four stories considered for this particular project. Among the four stories, this (Kanguva) had the biggest scope and span. So, recovery from a single language would be very difficult...We started exploring other languages and decided to have a strong Hindi version as well. Only if we get revenue from all the languages, we can make a recovery out of the budget we are spending,"
Gnanavel Raja who has kept the Kanguva updates coming over the months, previously confirmed that the movie's OTT rights in South Indian languages alone fetched a whopping Rs. 80 Cr. from Amazon Prime Video. On comparisons to Suriya's Kanguva aesthetic to the Velpari novel and Sony's popular game Ghost of Tsushima, the producer had said,
"As far as I know, it isn't anything like that (Kanguva's aesthetic is not inspired). It's a full-fledged imaginary story. It (the movie) has not been inspired from anything or any novel. We're doing this film set in the 18th century from a completely imaginary perspective. It may include around 20 percent of historical references..."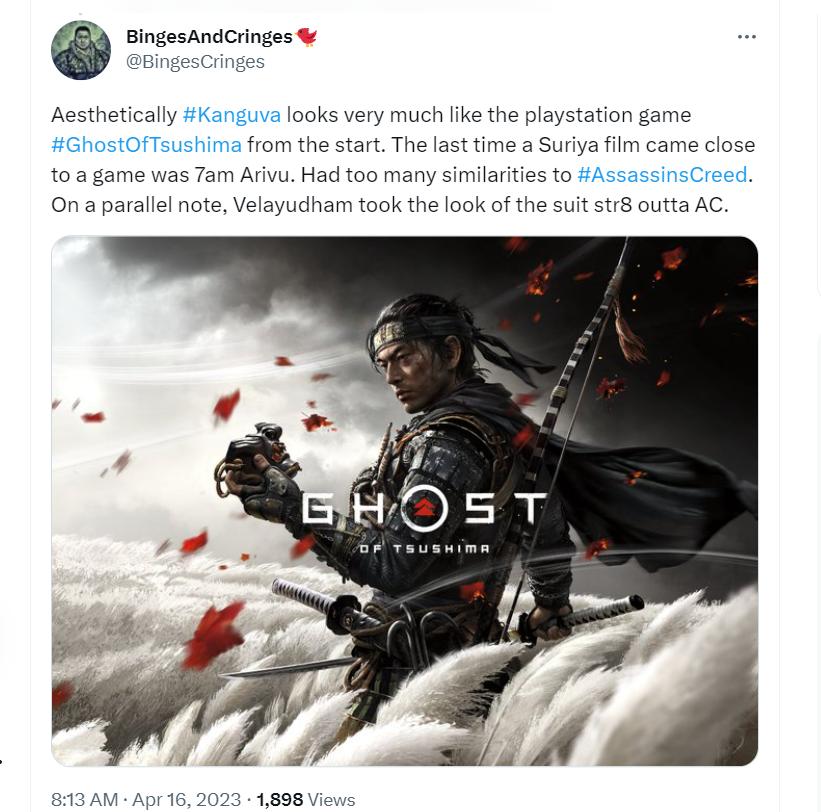 It is worth mentioning here that Kanguva director Siva has said that the film 'uses elements from ancient Tamil culture as well as other cultures from all over India.' The movie's poster had a 3rd century Tamil script called Vattezhuthu hinting a significance of the same in Kanguva.