Neo-noir Hindi thriller Kennedy will make its premiere at the 2023 Cannes Film Festival on May 24, and ahead of the same film's writer, director Anurag Kashyap sent the Indian film world into a tizzy with his shocking revealition. In an interview with Film Companion, the acclaimed Bollywood filmmaker revealed,
"I actually had a specific actor in mind when I wrote this film; which is why the film is called Kennedy.. It is Chiyaan Vikram, whose real name is Kennedy..the film was called the Kennedy project..I reached out to him..He never responded..So then, I reached out to Rahul (Bhat),"
Chiyaan Vikram is an acclaimed Tamil star who last appeared in Mani Ratnam's Ponniyin Selvan movies and will next be seen in Pa. Ranjith's Thangalaan. The actor incurred an injury during Thangalaan shooting and is currently on rest. As soon as Kashyap's interview started going viral, Vikram cleared the air by adding to the story. He took to Twitter to reveal,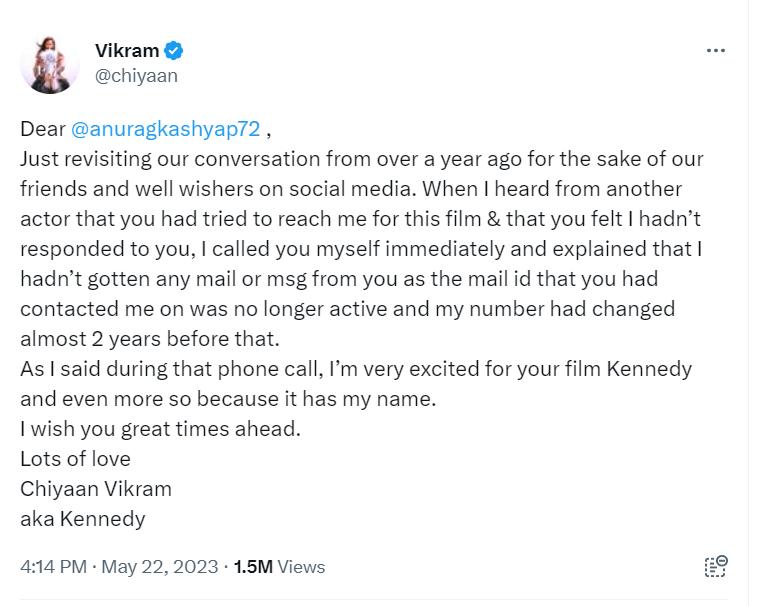 Kashyap acknowledged this addendum and said that there was no reason for people to react so much to this missed opportunity. He assured fans that both he and Vikram will not retire without working with each other since they go back to pre- Sethu (1999) days, the Tamil movie that made Vikram an overnight star.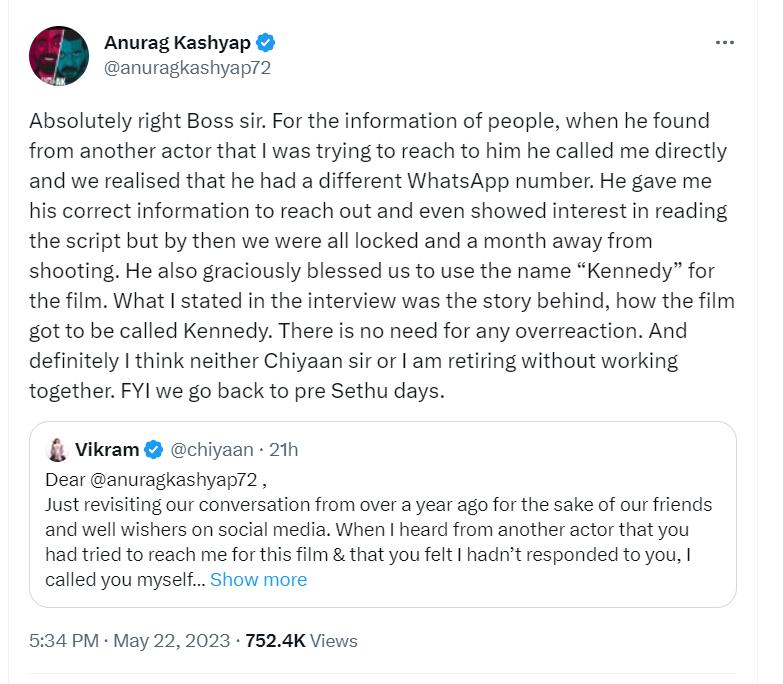 Also starring Sunny Leone, Benedict Garret among others, Kennedy follows the story of an insomniac former police officer who lives in different conditions and is looking for a salvation. How an ex-cop, who is presumed dead for a long time, operates secretly for the corrupt system is what is told in the 142-minute runtime.